Freeze-Frame, Beantown & Betteman Visit
The Washington Capitals picked up their fourth win in five games in a 4-1 road victory over the Florida Panthers on Monday night, extending the season series between them to 2-0-0. Kolzig continued his stellar performance from Saturday night making 44 saves. Matt Pettinger had netted his third of the season (second in two games) in the last minutes of the third on a rush with two defenders on him. His foot got the rebound. This is the second game in a row for the Caps that a goal has gone to review. The last game, it was the Caps who wanted to see if an Ovechkin shot was in or not. Having taped the game and watching it again later, I could see clearly that it was not a goal within the first replay of an overhead view. Watching the game on Monday night, I could see within seconds of a side angle that the Pettinger effort was a goal because the puck bounced and there was no distinct kicking motion. So my question is, why the hell does it take so long for these hockey experts to make the call? Why do they have to call Toronto? Why is there even guys sitting upstairs if they are always going to call Toronto?
The NHL wants to speed up the game, yet they have been doing a horrible job. The rule changes help, but it's everything else that is killing them. And it wasn't just these past two games. There has been other incidents this season. I don't mind goals being challenged, but when it's obvious like these past two games, don't call Toronto! What are you paying these other guys for? If it's highly questionable and hard to make sure, then call Toronto. I understand that they want to make sure, but when it's obvious, it's obvious.
What else is killing them are these extended intermissions. Intermissions have been extended by 2 minutes. More commercial time I'm sure is the main reason. 15 minutes was pushing it, now they've made it longer and more drawn out. I get so bored during these intermissions now, I actually start talking to myself. And not like I usually do. I'm not
that
crazy!
So tonight I will be watching the Bruins come in to town from section 100. Talk about a team that has had rediculous trouble this season. Their roster on paper makes you wonder why, and it seems like they shouldn't be having trouble. Obviously though it's not about how it looks on paper. Personally, I think it's Dave Lewis. Yeah, he had a hard time living up to Scotty Bowman in Detroit, however to me it seems that he's just not head coach material. Either that, or Chara isn't a good captain. Take your pick. Personally, I'd rather have a Dale Hunter, Chris Clark or a Keith Primeau on my team as captain. The latter of the three to me have been the closest to a Dale Hunter since Dale Hunter. It's possible someone is slipping my mind though, I didn't get alot of sleep last night.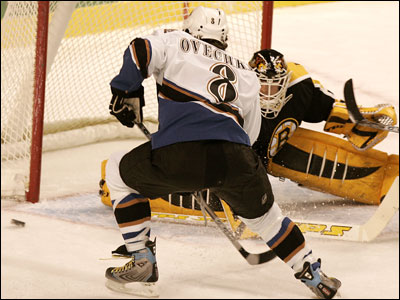 Commisioner Gary Betteman will be in attendance tonight as well. It will be interesting to see how the game is called, and if checking will be allowed. I'm going to say caps take this 4-2. That was my prediction for the Florida game. I'm hoping Kolzig gets the start, he deserves it, and he is the starting goaltender. He's just been amazing so far this season, with the exception of two games. I'll say goals from Ovechkin, Clark, Sutherby, and Semin.